Vanitcha Pintavorn, MD, FAAAAI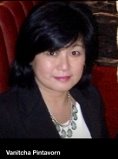 Dr. Pintavorn has been board certified in Allergy and Immunology (both Adult and Pediatric) since 1995. She finished her 4 year fellowship in Allergy and Immunology at The National Institute of Health (NIAID, NIH, Bethesda, Maryland) in 1997. Her clinical and basic research interests have been in allergy, allergic inflammation, food allergy, rhinitis and asthma.
She has published several studies, abstracts and review articles, in prestigious peer-reviewed journals in the field of allergy, immunology, nutrition and gastroenterology. She also wrote and co-wrote textbook chapters in Allergy and Immunology while she was a teaching faculty staff at her alma mater medical school in Bangkok, Thailand
Dr. Pintavorn admitted her true calling is taking care of patients
"Although I found enjoyment and excitement in my research career and teaching.....caring for patients with compassion and carefully utilizing latest medical information and technology is what I love most."
She decided to join an allergy and immunology private practice in Savannah, Georgia in January of 2001. In March of 2002, she started her allergy and immunology practice in Evans, Georgia.
"Columbia County is a rapidly growing community with easy access for the CSRA population.
It has been my privilege to serve this community and I truly enjoy the opportunity to care for our patients and their families."